Before the start of day 4, Ankeny offered `Snow in July'. After the long day before, we didn't see it. What was nice about Ankeny was the Y. We were camping very near the YMCA and we all had hot showers for the first time.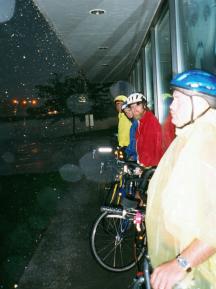 The morning leaving Ankeny was quite inhospitable. We didn't know it at the time, but we were in the middle of a tornado watch.
Throughout the day, we never knew if we should be wearing our rain gear or not. Seemed like everytime we took it off rain would start pouring out of the clouds with abandon. When we put it back on, the rain would seem to abruptly stop. There are jokes about Iowa's weather, but we are not going to repeat them here.
The town of Newton apparently has several points of notoriety. Riding into town we came upon the International Wrestling Museum. Newton used to have 6 washing machine factories, now it just has Maytag. Since it has Maytag, it has Mr. Lonely, Gordon Jump. Ted stood in line for an autographed photo of Mr Jump. Riding right through the parking lot of Maytag we were treated to free ice-cold water and then free icicle pops.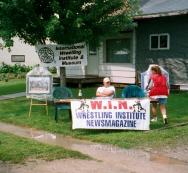 I don't think they mean the WWF!
Knoxville claims to have the fastest 1/2 mile in Iowa. It also has the National Sprint Car Hall of Fame.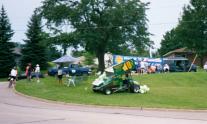 Knoxville has the fastest half mile in Iowa.
After getting our tents set up and a shower we got on a shuttle bus and went on over to the fairgrounds. The fairgrounds feathered that fast 1/2 mile dirt sprint track. It also featured some strange buildings, like that below.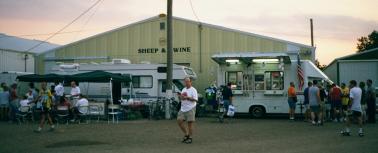 A strange combination of events for the fair.