We started out day 6 saying that we would stop at Mr Pancake or Chris's Cakes. Kathy and Gordon started out about 30 minutes earlier than the rest of us this day. It was going to be a short day, but Kathy was feeling the cycling over the last days and didn't think she would want to ride very fast. So for Barb, Warren and Ted it was a day of catch up. Turns out that Mr Pancake wasn't out every day and the line for Chris' Cakes was several hundred folks long when Gordon and Kathy. They decided that it was too long to wait in so we went on. After a couple of dirt stretches and very small towns without many amenities, we came to Richland. For the first time, we had to buy tickets for the food and drink. The biggest problem was that we were looking for breakfast and all they had was lunch food, so we had barbequed chicken sandwitches, gatorade and ice cream. Oh well, it keeps you going.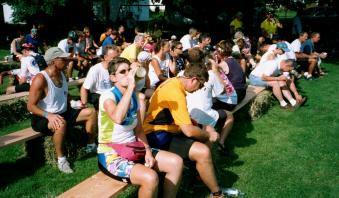 Barb and Warren have a little breakfast in Richland.
After a very short day we arrive in Washington. We take over the park where we aren't allowed to camp or consume alcoholic beverages. After a short trip to the very quaint and beautiful town square Barb and Ted hit the market to get food for the evening barbeque. After they get back to camp, taking the lead from Gordon and Kathy, they spend a couple of hours in the newly opened acquatic center in the park. Boy was that nice!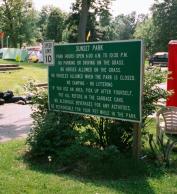 What, you mean I'm not allowed to camp or consume any alcohol in the park?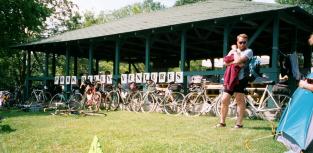 We had it made in Washington.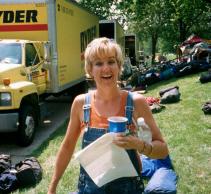 Our fearless charter leader, Tammy.
Ok, so here's the deal. Take some plastic, create a grid on it with duct tape, id each of the squares, put up a small fence, get bikers to put up a buck for each square, put in the piglet and start feeding it. The square with the first `mess' wins. Simple huh?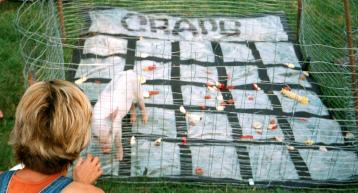 The crap shoot in Washington. Feed that pig!
All the overnight towns have beer gardens. Some are very strict about the age limit thing. Here are two of our fellow bikers. The blue bands on their wrists let all of us know they are RAGBRAI riders. The pink bands let everyone know that the wearer is over 21. You wouldn't think that everyone would have to wear one.
| | | |
| --- | --- | --- |
| | | |
| Gale got carded in the Washington beer garden. | | Alan sure looks like he's 21. |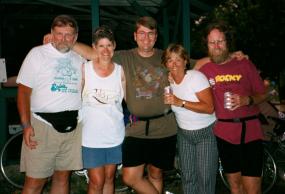 The five of us.