Leaving Knoxville, we were treated to fog. The temperature was cool, about 65 and the road started out pretty flat. Visibility was about 1/4 - 1/2 mile which was fine for safety and the fog kept us cool as we peddled along. The ride to Ottumwa looked like it would be fairly easy with only a couple of good hills and a short distance.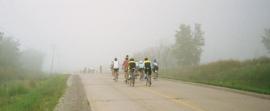 We start out the day with fog.
Ottumwa has a couple of notables. First it is the fictional home of Radar O'Reilly and the real home town of Tom Arnold. We got to shower in a tent with 15-25 of our friends and Gordon and Kathy spent three hours at the water park. Barb and Ted were told that the main part of the town was a short 1/2 mile walk. It was more like 1 1/2 miles. Tom Arnold was to perform with his band later in the evening but we were fast asleep.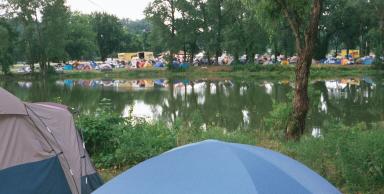 Tent city around the lagoons in Ottumwa. We had to watch out for the poison ivy. Ted is very allergic. Fortunately, none of our party came up close and personal with any ivy.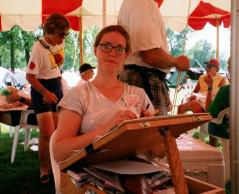 In Ottumwa, Laurie draws our portraits. Her pin said she could see us as a cartoon!