Ahhh! The last day! Like the last two days, we start out in fog and cool temperatures. Little do we know, but today we will bike in cloud cover all day. We know that today should be easy since it's all down hill. Well there is that one bad hill. Along the way we come across this Lincoln Navigator Limo complete with roof bike rack and a trailer hitch rack as well.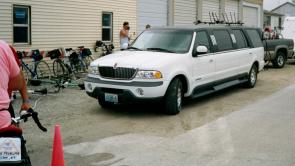 Some support vehicle, huh?
Mediapolis, like many other towns, has free water. Just walk up, fight the crowds, open the bottle and let the water dribble in.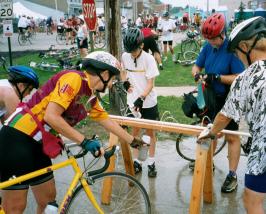 Barb and Warren fill up at a water station in Mediapolis.
After a very fast ride down into the Mississippi valley and a very nice road paralleling the river we arrive in Burlington. Finding the river is no problem, just look for the gathering. We each dip the front wheel and are done riding. We pack our bikes back in their shipping boxes, that Pork Belly has been carrying for us. Warren and Ted take the short ride over to where UPS has set up shop and ship our bikes away. It turns out that shipping our bikes back is much cheaper than getting them to Iowa. Go figure.

| | | | | |
| --- | --- | --- | --- | --- |
| | | | | |
| Barb finally at the Mississippi. | | Ted's made it too! | | Warren get's to do the dip. |
Gordon and Kathy arrive while the others are away at the shower. Since they aren't packing their bikes for shipping they also get a shower at the YMCA. Best shower of the week. We all board the buses for the trip back to Omaha.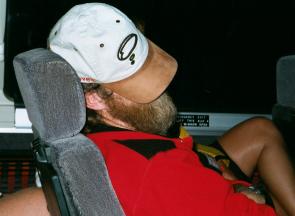 Finally some rest on the bus back to Omaha.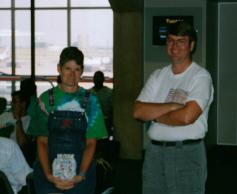 In Dallas, "Aren't we home yet?"
The End!